THE DOORS 2 ORIGINAL COBO ARENA CONCERT TICKET STUB MAY 8, 1970 PRESS AD REVIEW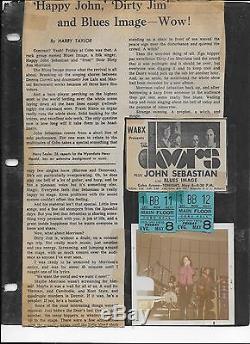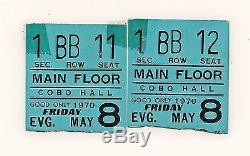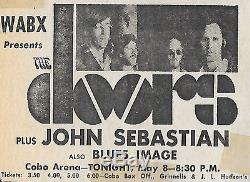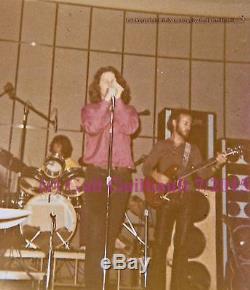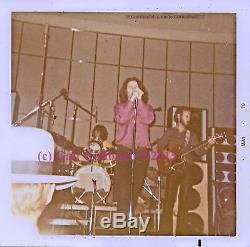 This AMAZING MEMORABILIA PACKAGE ARE MY PERSONAL MEMENTOS FROM THE LEGENDARY DOORS CONCERT, MAY 8, 1970 , AT COBO ARENA IN DETROIT MICHIGAN!! This concert is well renowned, as one of the shows where The Doors played their regular set, and then came back and did another hour of blues with John Sebastian on harp! This was an incredible night of music and mystery in renaissance period of classic rock! 2 Original Main Floor Ticket Stubs for the Doors Concert, May 8, 1970. The Original Ad for the Doors Concert that ran in the Detroit News for.
The Original Review by Harry Taylor that ran in the Detroit News (he started by saying Morrison was an egotistical bastard and wound up saying he was a prophet, so that tells you exactly what kind of night it was)!!! Of my unpublished photo taken of the Doors with my Kodak Instamatic Camera (I was standing right in front of Jim Morrison ; also pictured are John Densmore and Robbie Krieger)!!! NO COPYRIGHTS are intended or included with this photo. Decades later, I had the good fortune to meet Doors keyboardist Ray Manzarek when he played at a club, and I gave him a poem I had written about the Doors Concert, May 8th 1970. He looked at me with a gleam in his eye when he said May 8th, 1970, Cobo Arena, you were there??? Because even to him, all those years later, that show stood out. It was incredible, as you will see when you read the review. This is an amazing package, and an amazing piece of rock history!!! From the liner notes in. Every once in awhile, rather than performing the usual encore, if the audience was really lucky, Jim Morrison would throw away the time limits and perform until he couldn't stand up anymore (Jim had this thing about limits -- he liked them best broken). This performance at Detroit's Cobo Arena was such a night. It easily contains the longest Doors' set ever performed and extends about an hour over the standard concert running time during this period. It was performed when The Doors were working on L. On the weekends the band would go out and play. They were also returning to their musical roots, and in Detroit this was quite evident. Starting with "Crossroads" through "Carol" and into "Been Down So Long" -- and then onto "Been Away Baby, " "Close To You, " "I'm A King Bee, " "Rock Me Baby, " and Heartbreak Hotel. On the latter tracks they are joined by ex-Lovin Spoonful member John Sebastian on both harmonica and guitar.
The band, as you can hear, is clearly having a great time indulging in their love of The Blues. Also notable is their performance of "The End" which is a real rarity among recorded live shows only three or four versions exist.
On this one, Morrison, who always loved to improvise, diverges from the song's published lyrics as heard on the first Doors' album: "Come with me, across the sea" unexpectedly jumping into the climactic "Come on, baby, take a chance with us" in a menacing voice. Fragments of what would later become the album An American Prayer appear throughout this version: "A vast radiant beach, " "Everything is broken up and dances, " and his feverish call to the audience to Wake Up! " which begins "Celebration Of The Lizard.
" Jim called to the audience to "Wake Up! " hundreds of times, taking his lead from playwright/performance artist/revolutionary Antonin Artaud (who wrote "They are asleep, they do not know they are asleep and I want to awaken them from their self-imposed lethargy).
Jim's admonition was a cry to take action towards a more conscious state of being. During the concert, following the Wake Up!
Plea Morrison exploded into a fury of motion, climaxing with his collapse on the stage as dozens of audience members' arms reached out in the attempt to make contact with the man already becoming myth. Union regulations demanded that the show end at midnight but Morrison pushed the envelope again.
Don't let them push us out! He declares and the show goes a hour overtime. And Cobo Arena permanently bars The Doors from entering their doors again.
The item "THE DOORS 2 ORIGINAL COBO ARENA CONCERT TICKET STUB MAY 8, 1970 PRESS AD REVIEW" is in sale since Sunday, January 10, 2016. This item is in the category "Entertainment Memorabilia\Music Memorabilia\Rock & Pop\Artists D\Doors\Concert Memorabilia". The seller is "goddesstones" and is located in Phoenix, Arizona.
This item can be shipped worldwide.
Original/Reproduction: Original Cobo Arena Main Floor Tickets
Country/Region of Manufacture: United States
Format: TICKET
Country of Manufacture: United States