LED ZEPPELIN 1977 Original CONCERT ticket STUB RIOT SHOW in Tampa, FL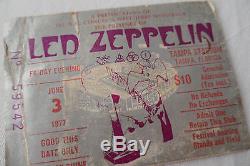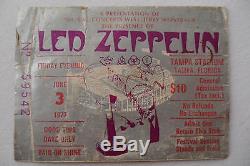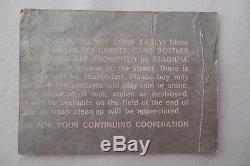 This is a rare LED ZEPPELIN concert ticket. Show at the Tampa Stadium.
I n my opinion, this is one of the best looking Zeppelin tickets out there. T hese are very h ard to come by, which would normally seem surprising considering there were 70,000 people at this concert. But, unfortunately, a huge thunderstorm started about 20 minutes into the show and really messed things up.
The band ultimately decided to cancel the show as there was lightning and the rain wouldn't stop, apparently the band was fearful of electrocution. Then, after the police started to tell everyone to go home and even had to use tear gas , things became quite rowdy and menacing. T hat's why there are so few of these stubs, and when you find one, it is usually all rumpled and worn!!
Hence why so few stubs are around. Collecting stubs was more of a rare thing and so m ost fans opted for the cash! From that point forward, the City of Tampa withdrew all applications to concerts at Tampa Stadium for 3 years after this show (and not too long after they torn the place down). That was too bad, this venue was good for shows and had some of the best looking concert tickets around. If not for that storm, we would have had many more shows and great looking stubs!
Anyway, this stub is in VG/VG+ condition with light wear, otherwise still nice and fairly crisp, not soft. Out of the few stubs left from this show, most are pretty wrinkled. This one is about average, it's very hard to find better. This was an outdoor show held at the Tampa Stadium in Florida on June 3rd 1977.
If you have ever heard the live audio of this show, it was a great start to the 10th show on the 2nd leg of the US tour. There were 70,000 fans in attendance. After they played The Song Remains the Same, Sick Again, and Nobody's Fault but Mine - the show was stopped and soon thereafter a riot erupted with the fans and the police. Show ends early due to rain. The promoters then ran a full page ad, apologizing to fans for the turn of events it read.
Concerts West Apologizes and is sorry for the humiliation & inconvenience to you and your faithful fans at Tampa Stadium, June 3, 1977. You did everything that you could and wanted to do so much more. You are the best and deserve the best, not the worst treatment. At Least 100 Injured At Led Zeppelin Concert. City officials, reeling from a mini riot which erupted when a thunderstorm washed out a Led Zeppelin concert, canceled a rain check rerun Saturday, leaving fans from as far as Michigan and New York holding "rain or shine" ticket stubs.
"If I were in Buffalo, I'd go home right now, " said Bonnie Strickland. The 19-year-old youth and three companions had driven 24hours to get to Florida for the concert. Strickland said they were the first ones in the stadium when the doors opened at 11:30 a. Friday for the8:30 p.
After spending the day in 90-degree weather on the sun baked football field, they settled down for the concert. The British band played for 20 minutes before the thunderstorm hit. About 45minutes later the concert was called off.
The cry We want Zeppelin. We want Zeppelin came from the 70,000 fans as rocks and bottles began flying onto the stage. We had what had to be called a small riot. There were between 3,000 and4,000 people who were unruly and disorderly, Tampa Police spokesman Johnny Barker said. About 250 police officers, all in riot gear and using billy clubs, broke up the rioting and herded the fans out of the stadium. The scene was followed by 26 reported traffic accidents near the grounds. "The cops didn't give any warning, " one teen-aged girl said. I ended up at the bottom of the crowd and a cop kicked me in the head.
My brother got a broken leg and broken ribs. The melee left an estimated 100 fans with injuries. Shift Commander Tom Wilson said "in the neighborhood" a dozen officers were treated for injuries. One had a concussion, there was one with a broken hand, one with a broken ankle, one with cut lips and some teeth knocked out, one with a dislocated shoulder...
" There were so many people you just couldn't move, " a 32 year-old man from West Palm Beach said: I was just trying to get away. The ticket said rain or shine. (Newswire - June 5, 1977). MORE 1977 AMERICAN TOUR PHOTOS.
These were taken a month la ter on July 24th, in Oakland, CA. Plus a video shot on June 23rd in Los Angeles. Typical setlist for the 1977 tour. The Song Remains The Same, (The Rover intro) Sick Again, Nobody's Fault But Mine, In My Time of Dying, Since I've Been Loving You, No Quarter, Ten Years Gone, Battle of Evermore, Going to California, Black Country Woman, Bron-Y-Aur Stomp, White Summer Black Mountainside, Kashmir, (Out On the Tiles intro) Moby Dick, Jimmy Page solo, Achilles Last Stand, Stairway to Heaven, Rock and Roll, Trampled Underfoot. 10 minutes of video clips shot on the eve ni ng of Ju ne 23rd at the L. July 24,1977 Oakland, California. Oakland was their final appearance in the USA. They would go on to play 4 shows in 1979 and about 15 shows in 1980, all in Europe, before John Bonham died and the band disolved. Please leave me a good positive comment so that I know you received your item and everything is fine, I will reciprocate. Thank you for shopping at ClaudeUSA. The item "LED ZEPPELIN 1977 Original CONCERT ticket STUB RIOT SHOW in Tampa, FL" is in sale since Friday, November 20, 2015. This item is in the category "Entertainment Memorabilia\Music Memorabilia\Rock & Pop\Artists L\Led Zeppelin\Concert Memorabilia". The seller is "claudeusa" and is located in Orlando, Florida. This item can be shipped to United States, to all countries in Europe, to all countries in continental Asia, to Canada, to Australia.
Original/Reproduction: Original
Country of Manufacture: United States
Format: STUB