1986 Red Hot Chili Peppers / Guns N' Roses Ucla Ballroom Concert Ticket Stub Axl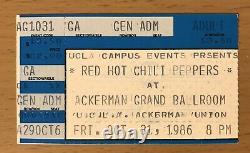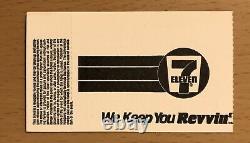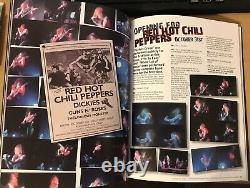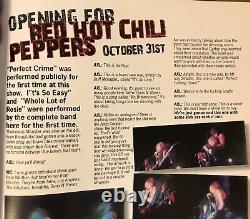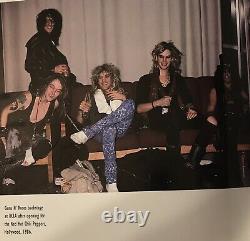 ON HALLOWEEN OCTOBER 31, 1986. AT ACKERMAN UNION GRAND BALLROOM. THIS IS OF FROM OF GUNS N' ROSES EARLIEST CONCERTS. AND IS A GREAT PIECE OF GUNS N' ROSES HISTORY.
I HAVE ADDED SOME PICTURE'S TO THE DESCRIPTION. FROM GNR'S CLOSE FRIEND MARC CANTER'S BOOK.
"RECKLESS ROAD" TO HELP DESCRIBE THE CONCERT BETTER. LA WEEKLY OCTOBER 31, 1986. HENRY ROLLINS: OCTOBER 31, 1986 A MEMORABLE NIGHT.
In the late summer of 1986, the band I had been in for five years stopped playing. Suddenly, I was on my own. This new state of bandlessness was, at first, traumatic. When your group breaks up, a lot of broken parts hit the ground.
Like a lot of relationships going south, they don't just spontaneously deconstruct as much as they frantically wave lit road flares to notify you of the danger ahead. You can heed the warning or not.
Several weeks before impact, it became clear to me that the band was on its last legs. We were on tour and things were not going well. The new songs were not good. Many of the lyrics, written by the guitar player, scrawled on the back of fliers and handed to me for absorption, were embarrassing. I felt strange onstage with these unwieldy songs I had to deliver. The audience often was less than pleased with the new material and our refusal to play old songs. That's putting it mildly. When their displeasure with the band, which had turned into four people who no longer communicated, had reached peak levels, the audience usually expressed themselves by attempting to wound, mutilate or otherwise bring grievous bodily harm to yours truly. It was an environment of the most profound and sustained negativity I have ever experienced. Nothing in my life, thankfully, has ever come close. I didn't do anything to make things better. It is astounding how much misery you can carry and still function.
The tour, delayed at its beginning by the death of D. Boon of the Minutemen, was as Hemingway would say bitched from the start. When the tour finally came to an end in Detroit, it was like being pulled from a huge cauldron of black paint to collapse and violently heave.
When the band was officially deactivated weeks later, it was, for me, the end of one war and the start of another. Nietzsche proclaimed that the warrior uses peace as a means to new wars and favors the short peace over the long. As much as that sounds like a mantra for the GOP, I took it to mean I'd better hit the ground running, sooner than later. I figured that the previous five years had been the journey leading me to this moment. The course was as clear as it was challenging.
It was time to eclipse the past with the incandescence of what I would do next. Looking up this time period of my life, I found this page, written on 09-01-86. Greg quit Black Flag on 8.27.86.
I went up to New York to talk to the casting directors of. Hard to deal with people who didn't know who I was. I should get used to that. I met Nick Nolte, he seemed cool. I don't know how the movie thing works.
Saw a quote that really made me feel alright:'One who desires to grow should be prepared to seem foolish. I see now that it also acted like a security blanket. I thought it would never end. Now I see that all things pass. I'm not trying to sound heavy or anything but it's true.
The experience with the casting people really sobered me up. I don't want to ride on any reputation of any past.
This is a new start, a new reality. I will have to change a lot. If I don't, I will be the worse for it.
Those people didn't know me from a hole in the ground. Could be the best thing that ever happened to me.
It's time to get to work. All energies must be put to moving in a forward direction. There can be no backsliding into depression. It's all cool if I can keep moving, working and growing. I will show myself what I can do.
I think I will be the better for it in the long run. By 10-07-86, I was in Leeds, England, making my first solo album. Weeks later, I was back in Los Angeles. Paying for my own record set me back quite a bit. Later that month, Rat Sound, who built Black Flag's PA system, called me and Black Flag roadie/friend Joe Cole, asking if we wanted to make 50 bucks each setting up the system for a show on Halloween night at UCLA. The next day, there we were, loading the same gear out of the same truck from Black Flag's last show.
Four bands on the bill that night. The last band to load in was the opener. They were skinny and their gear was ragged. They had a lot of attitude. Joe Cole asked me, Should we beat some of these hippies up?
I reminded him that we were working for them. The doors opened, some people straggled in. The longhairs with the attitude hit the stage and their fans, all 50 of them, were up front. The singer said their first record would be out soon and started playing.
Joe and I stood with the crowd and watched what sounded like the Sex Pistols incinerating Aerosmith. It was pretty damn good great, actually. Joe asked me what I thought. I said they were going to be big, judging from the A&R men fluttering around the soundboard. The band was called Guns N' Roses.
It was a very memorable Halloween night. Axl Rose (vocals), Izzy Stradlin (rhythm guitarist), Slash (lead guitarist), Duff McKagan (bass) and Steven Adler (drums).
Perfect Crime' played for the first time. It's So Easy' and'Whole Lotta Rosie' played with the complete band for the first time. Probably the most memorable show of this sort took place on Halloween, 1986. The Red Hot Chili Peppers, who were just starting their rise as a national act, and the Dickies were headlining a show at Ackerman Hall at UCLA, and we opened.
We still had yet to enter the studio. We were feuding with Geffen about whether we had enough songs to warrant recording, and we still hadn't found a producer we liked. We reached a compromise with the label to put out a limited edition "bootleg" EP, Live! Like a Suicide, and we had finished it just before this show.
That night we felt like we were finally making some forward motion. For me, the cool thing about this show was that Black Flag's Henry Rollins watched our entire set from the wings of the stage and came up to us afterward and told us how much he liked our and. I considered him the most credible guy in rock, and he had a reputation as a guy who didn't mince words. He definitely wouldn't fawn over a band just for the sake of doing so. And we got the thumbs up.
Duff's autobiography, "It's So Easy", 2011, p. THE TICKET STUB SHOW WEAR, BUT WOULD LOOK AWESOME. FRAMED WITH PHOTOS OR OTHER MEMORBILIA.
The item "1986 RED HOT CHILI PEPPERS / GUNS N' ROSES UCLA BALLROOM CONCERT TICKET STUB AXL" is in sale since Wednesday, July 15, 2020. This item is in the category "Entertainment Memorabilia\Music Memorabilia\Rock & Pop\Artists G\Guns N' Roses\Other Guns N' Roses Mem". The seller is "10secondstolove" and is located in Youngstown, Ohio. This item can be shipped to United States.