Led Zeppelin 7/18/70 Frankfurt Germany BIG Mega Rare Concert Ticket Stub! German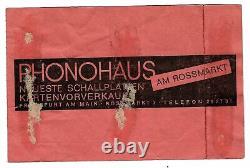 Old tickets and stubs are great collectibles and reflect really neat memories of the past!! This is a very rare old GENUINE Led Zeppelin concert ticket stub from their July 18, 1970 concert in Frankfurt, Germany; you'll get the exact item shown in the accompanying images. It came from the scrapbook of a music fan who affixed their memorable collectible items to pages of the book; please see the accompanying images to assess condition.
Led Zeppelin's concert's setlist that night included: Immigrant Song, Heartbreaker, Dazed and Confused, Bring It On Home, That's Way, Bron-Yr-Aur, Since I've Been Loving You, Organ solo / Thank You, What Is and What Should Never Be, Moby Dick, Whole Lotta Love, Communication Breakdown (medley). Our best references are from our customers; read feedback comments left for us! Thank you for your interest and support, and have fun on e B a y!
Items are usually packed on Wednesdays and Fridays and taken to the Post Office on Thursdays and Saturdays.