The Rolling Stones Concert Ticket Stub! Alpine Valley Music Theater 9-9-1989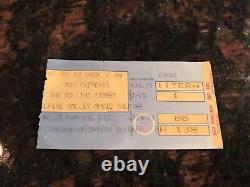 THE ROLLING STONES CONCERT TICKET STUB! ALPINE VALLEY MUSIC THEATER - 9-9-1989! The ticket is in great shape and would look fantastic framed up with a photo from the 1989 tour, or even better yet, from the actual show.... I hope it goes to a true fan and it winds up framed on someone's wall eventually.
I have worked in the entertainment industry for over 29 years now and have been saving (as well as framing) these concert momentos for 30+ years. It's time to share them and find them new homes - to true fans that will appreciate them as much as I have over the years!