LED ZEPPELIN Original 1977 CONCERT TICKET STUB Madison Square Garden, NYC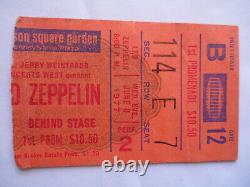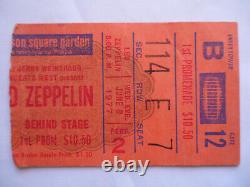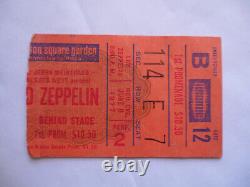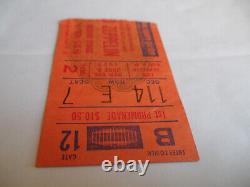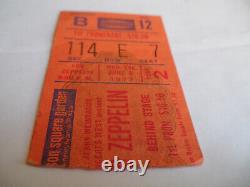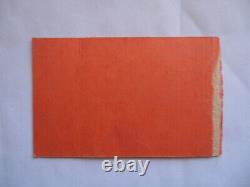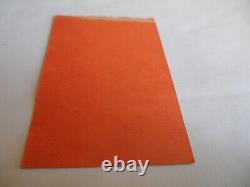 Here is a super nice LED ZEPPELIN ticket stub. From June 8th, 1977 at the MSG, NYC. Unfortunately, this would be their last US tour and this concert was to have been only weeks before tragedy would strike and the tour would end prematurely.
After the July 24th Oakland concert due to Robert Plant's son's death arising from food poisoning. Still, this would remain as their biggest and most profitable tour ever, and one of the biggest of the 1970's. What's nice is that you have most of the full band name as most stubs don't.
They don't even have anything left of the last blue line. Ushers generally only gave back the small 1.5 portion right at the blue line.
You had to hold on to it and fight to get any more of it! That's why they are much scarcer. The Song Remains the Same. Nobody's Fault but Mine. In My Time of Dying. Since I've Been Loving You. White Summer / Black Mountainside. (Out On the Tiles intro). 1979 2hr40min full show when they were at the top of their game.
Go to YouTube and paste in: Led Zeppelin: Knebworth August 11th, 1979. 2007 London reunion show shot in 720p: Go to YouTube and type in: 2007 Led Zeppelin London reunion show. The 2012 Kennedy Honors when Led Zeppelin were honored and includes great Led Zeppelin songs done by The Foo Fighters, Kid Rock, Lenny Kravitz. Go to YouTube and type in: Led Zeppelin Tribute - Foo Fighters, Kid Rock, Lenny Kravitz - 2012 Kennedy Center Honors. Please leave me a good positive comment so that I know you received your item and everything is fine, I will reciprocate.
Thank you for shopping at ClaudeUSA.